ATEM Mini Pro ISO
$771 ex. VAT - $910 inc. VAT
Affordable live switcher with 4 standards converted HDMI inputs, USB webcam out, audio mixer with EQ and dynamics, 2D DVE, transitions, green screen chroma key, 20 stills for titles and much more! ATEM Mini Pro also includes recording to USB disks in H.264 format, a built in hardware streaming engine for YouTube Live, Facebook, Twitch and more, plus multiview to see all cameras on a single monitor. Plus with the ATEM Mini Pro ISO model you also get recording of 5 streams including all input as clean feeds for editing, plus a DaVinci project file for fast edit turnaround and Blackmagic RAW file relinking for finishing in Ultra HD.
Available on backorder
Additional information
| | |
| --- | --- |
| Brand | Blackmagicdesign |
| Product Type | Live Production Switchers |
Description
Connections
Total Video Inputs
4
Total Outputs
2
Total Aux Outputs
1
Total Audio Inputs
2 x 3.5mm stereo mini jack.
Total Audio Outputs
None, embedded audio only.
Timecode Connection
None
HDMI Video Inputs
4 x HDMI type A, 10-bit HD switchable.
2 channel embedded audio.
Video Input Re-Sync
On all 4 HDMI inputs.
Frame Rate and Format Converters
On all 4 HDMI inputs.
HDMI Program Outputs
1
Ethernet
Ethernet supports 10/100/1000 BaseT for live streaming, software control, software updates and direct or network panel connection.
Computer Interface
1 x USB Type-C 3.1 Gen 1 for external drive recording, webcam out, software control, software updates and panel connection.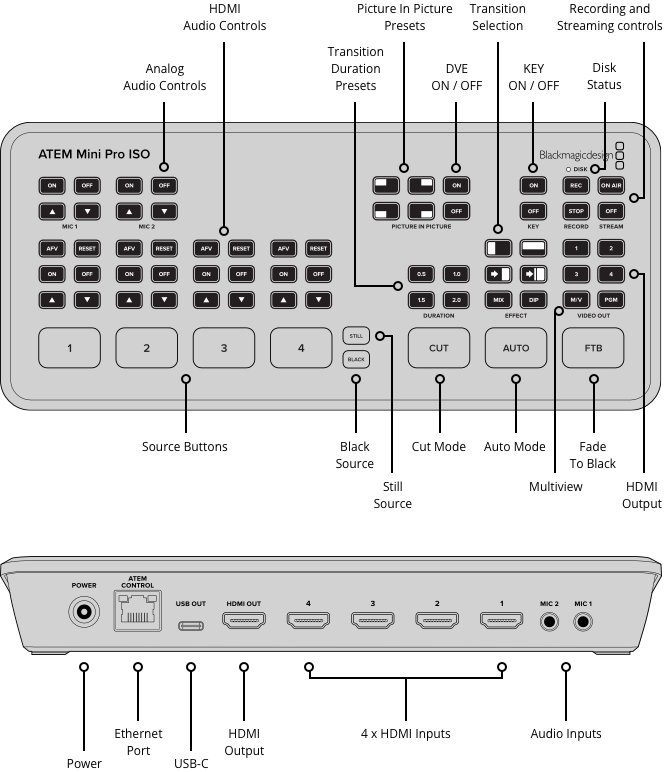 Standards
HD Video Input Standards
720p50, 720p59.94, 720p60
1080p23.98, 1080p24, 1080p25, 1080p29.97, 1080p30, 1080p50, 1080p59.94, 1080p60
1080i50, 1080i59.94, 1080i60
HD Video Output Standards
1080p23.98, 1080p24, 1080p25, 1080p29.97, 1080p30, 1080p50, 1080p59.94, 1080p60
Video Streaming Standards
1080p23.98, 1080p24, 1080p25, 1080p29.97, 1080p30, 1080p50, 1080p59.94, 1080p60
Ultra HD Video Standards
None
Video Sampling
4:2:2 YUV
Color Precision
10-bit
Color Space
Rec 709
HDMI Input Resolutions from Computers
1280 x 720p 50Hz, 59.94Hz and 60Hz
1920 x 1080p 23.98, 24, 25, 29.97, 30, 50, 59.94 and 60Hz
1920 x 1080i 50, 59.94Hz and 60Hz
Colorspace Conversion
Hardware based real time.
Product Specifics
Upstream Keyers
1
Downstream Keyers
1
Advanced Chroma Keyers
1
Linear/Luma Keyers
2
Transition Keyer
DVE only.
Total Number of Layers
5
Pattern Generators
1
Color Generators
2
DVE with Borders and Drop Shadow
1
Interface
Minimum monitor resolution of 1366 x 768.
Audio
Audio Mixer
6 input x 2 channel mixer.
Selectable On/Off/Audio-Follow-Video per channel plus separate gain control per channel.
Level and Peak metering. Plus new Fairlight audio enhancements: Compressor, Gate, Limiter, 6 bands of parametric EQ. Master gain control.
Analog Input
Unbalanced stereo
Analog Input Delay
Up to 8 frames
Input Impedance
1.8k
Max Input Level
+6dBV
Mic Plug In Power
Available on both 3.5mm mini jack connections.
Streaming
Direct Streaming
ATEM Mini Pro ISO supports direct live streaming using Real Time Messaging Protocol (RTMP) over ethernet or a shared mobile internet connection over USB‑C.
Recording
Direct Recording Video and Audio
USB-C 3.1 Gen 1 expansion port can record directly to external media.
Video Recording
4 x HDMI ISO inputs as H.264 .mp4 files at up to 70Mb/s quality at the ATEM video standard with AAC audio.
1 x Program out as H.264 .mp4 file at the Streaming quality setting and at the ATEM video standard with AAC audio.
Audio Recording
6 x 2 channel audio inputs recorded as seperate 24‑bit 48KHz .wav files. Including 2 x analog stereo audio inputs and 4 x HDMI 2 channel embedded audio inputs.
Switching
Program switching recorded as a DaVinci Resolve project .drp file.
Media Format
Supports media formatted ExFAT (Windows/Mac) or HFS+ (Mac) file system.
Multi View Monitoring
Multi View Monitoring
1 x 10 Views including left right configurable Program/Preview, 4 HDMI inputs, Media Player, Streaming Status, Recording Status and Audio Meters.
Multi View Video Standard
HD
Media Player
Media Players
1
Channels
Fill and key for each Media Player.
Media Pool Still Image Capacity
20 with fill and key.
Media Pool Still Image Format
PNG, TGA, BMP, GIF, JPEG and TIFF.
Control
Control Panel
Built in control panel. Software control panel with camera control included. Supports optional hardware panel.
Control Panel Connection
Ethernet supports 10/100/1000 BaseT. Ethernet used for direct connection between panel and chassis or via network. ATEM Mini Pro ISO also supports direct USB‑C connection. Ethernet or USB‑C used for updating the software.
Control Panel Compatibility
Includes ATEM Software Control Panel. Also compatible with ATEM 1 M/E Advanced Panel, ATEM 2 M/E Advanced Panel and ATEM 4 M/E Advanced Panel. ATEM Mini Pro ISO can be configured using Blackmagic Videohub Hardware Panel Setup utility to route sources to destinations using Videohub Smart Control Pro and Videohub Master Control Pro.
Control Panel Included
ATEM Software Control Panel included free for Mac 10.14 Mojave, Mac 10.15 Catalina or later and Windows 10 64 bit only.
Software
Software Updates
Using USB or Ethernet connection directly connected to Mac OS X or Windows computers. Includes ATEM Switcher Utility.
Configuration
Set via ATEM Software Control Panel, excluding ATEM chassis IP address which is set via the ATEM Switcher Utility connected via USB to chassis.
Power Requirements
Power Supply
1 x External 12V power supply.
Power Usage
36W
Physical Specifications
Environmental Specifications
Operating Temperature
5° C to 40° C (41° – 104° F)
Storage Temperature
-10° to 60° C (14° to 140° F)
Relative Humidity
0% to 90% non-condensing
What's Included
ATEM Mini Pro ISO
External 12V DC power supply with international socket adapters
Warranty
12 Months Limited Manufacturer's Warranty.
Reviews (0)
Only logged in customers who have purchased this product may leave a review.